Old Tom Morris Links
Architects – Old Tom Morris (1893) , James Braid & Harry Vardon (1906), H.S. Colt (1912)
In 1891, while a guest of Lord Leitrim at his nearby estate, Old Tom Morris of St. Andrews, a winner of four Open Championships in the 1860's, took a drive to enjoy the Donegal scenery. Old Tom was quick to see the golfing potiental of this fine strectch of coast line and before returning to the home of golf he had staked-out the first Rosapenna Links, incorporating wide rolling fairways amidst the undulating terrain and of course those delightful greens.
Back at St. Andrews, Old Tom was quick to tell of his discovery and so it was that Rosapenna became a place of pilgrimage for golfers at the turn of the century. Amongst those to follow were two other great golfing champions Harry Vardon and James Braid (in 1906) who won 11 Open Championship titles between them. They added length and more detailed bunkering but were wise enough to leave those wonderful natural greens untouched. Further changes were made by the great Harry Colt of Sunningdale in 1912, building/editing at least 11 holes.
In September 2009 the new Strand Nine opened at Rosapenna to replace the original back nine which played across the main road on a number of holes. These new links holes which are now played as the front nine are routed through the low lying dunes to the east of the Sandy Hills Links and are fashioned much like the original Old Tom Morris Valley nine that runs along the beautiful Tramore beach overlooking Sheephaven Bay which have now become the back nine. Laid out by Pat Ruddy of the European Club these new links holes, which have striking views across Mulroy Bay, have matured to a condition that has seen them settle into the Old Tom Morris Links layout to provide a seamless connection between each nine.
The original back nine of the Old Links known as the "Coastguard Holes" are now played as a separate nine hole course beginning and finishing at the practice ground. Running to just under 7,000 yards off the championship markers the Strand and Valley nines which now make up the Old Tom Morris Links are a testing combination of traditional and modern links holes which bridge a century of golf design influences.
To book a visitor round on the Old Tom Morris Links directly online please CLICK HERE.
"It is difficult to write with restraint about Rosapenna. The exceptional beauty of the surroundings is liable to interfere with unbiased criticism" Harry Colt 1927
WHS Handicap table - Blue / White / Red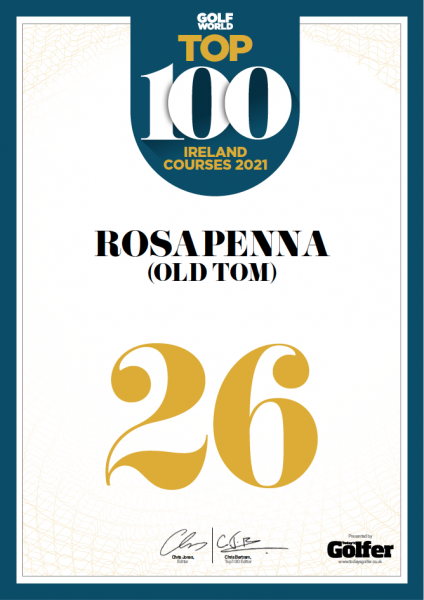 Central Golf Reservations
Telephone - 00353 (0)74 915 5000
CLICK HERE TO SUBMIT A REQUEST